Posted by: Manhattan LASIK Center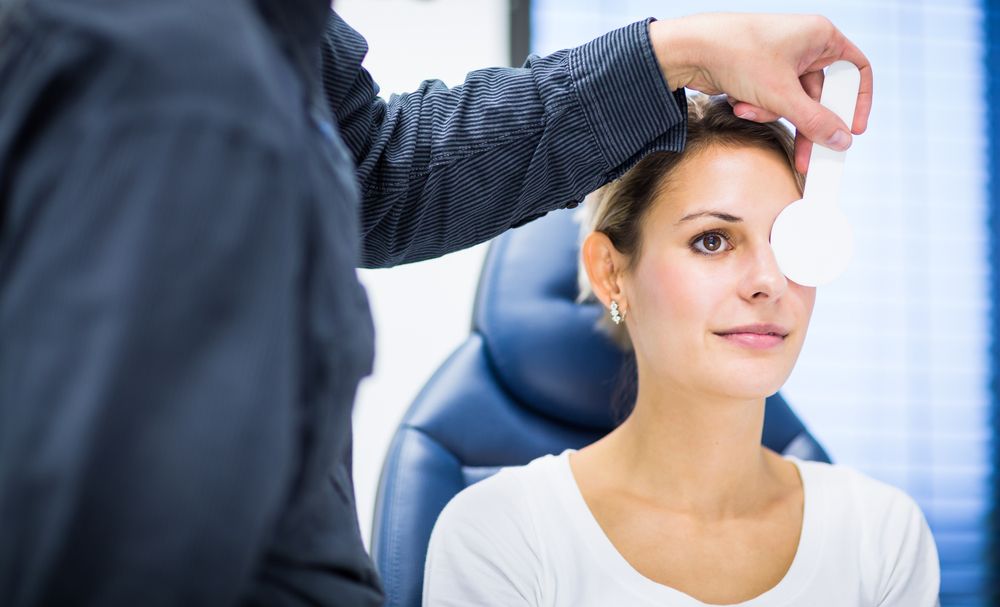 Over the last 20 years, our Medical Director Dr. Niksarli, Dr. Buchsbaum, and the Manhattan LASIK Center team have performed over 100,000 LASIK, SMILE, and PRK procedures. When patients come into our centers to determine if they are a candidate for SMILE LASIK, one of the most common questions asked is: "Is SMILE LASIK surgery safer than continuing to use contact lenses?"
The obvious answer is SMILE LASIK as it would relieve a patient from being dependent on contact lenses to correct their vision needs. However, many patients are unaware of the difference in safety when you compare SMILE LASIK surgery to long-term contact lens use.
Long-term, contact lens wearers can develop more dry eye symptoms when compared to patients who only wear glasses. Studies have shown that contact lenses damage the tear-producing glands in the eyelids that help maintain a healthy tear film. Many patients tend to work in fields requiring them to use computers and digital devices for long periods of time (if not all day), which contributes to less and/or incomplete blinking. This, combined with the decrease of the tear film, may result in extremely dry eyes and possibly blocked glands.
Another safety precaution that contact lens wearers disregard at times, and is a key factor associated with the possible dangers of long-term contact lens use, is sleeping with the lenses overnight. Sleeping with your contact lenses can damage the cornea. It can also cause or increase the risk of infections such as keratitis, corneal ulcers, viruses, bacteria, fungi, and rare but serious eye parasites. If an infection were to occur within the center of your cornea, it could significantly decrease your visual acuity. It is reported over 1 million patients visit an eye doctor's office or emergency room for complications with contact lenses relating to corneal infections or abrasions.
At Manhattan LASIK Center, we also continue to invest in the latest technologies out there when it comes to Laser Vision Correction. We have a multitude of lasers that allow our surgeons to treat each patient with the best procedure for their individual visual needs. We are also one of the few centers in the tri-state area able to offer our patients ZEISS SMILE, Bladeless LASIK, and PRK as options for their laser vision correction. This also allows us to ensure our patients' safety throughout their laser vision correction experience.
Our Zeiss Visumax femtosecond lasers are the most advanced lasers in today's laser vision correction industry. They are the only lasers that are able to perform the revolutionary bladeless, flapless SMILE LASIK procedure. In addition, they provide our surgeons with the capability to create the thinnest, most precise bladeless LASIK flaps in the world. Over time, Zeiss Visumax flaps have been proven to reduce the incidence of dry eyes, provide faster healing time, and lessen the occurrence of complications when compared to "blade LASIK" that is performed with a microkeratome.
A SMILE LASIK procedure is clearly an investment for most patients. Many don't realize that the cost of their contact lenses over a lifetime will be far greater than the cost of their laser vision correction procedure. To make our procedures more affordable, we offer 24-Month-Interest-Free financing options to our patients. When you consider this, along with the overall safety of a SMILE LASIK procedure, it becomes even more obvious which option is better for you long term.
Manhattan LASIK Center was the first Center on the east coast to offer SMILE LASIK and has performed the most procedures in the nation. Our FREE consultations include a complete, dilated eye exam to determine whether you are a SMILE LASIK candidate. We have four convenient locations in Edison, NJ, Paramus, NJ, Manhattan, and Roslyn, NY. Call 212-759-9617 today to schedule a FREE consultation at any of our locations.
---